Osmotic Repair and GRP Work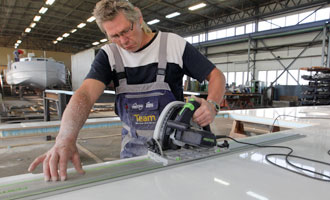 Previously, Osmosis was the death sentence for a yacht made of glass fiber reinforced plastic (GRP). Today, there are several procedures for extending the life of the hull. Firstly, we wash the osmosis thoroughly by means of water jets with a pressure of 500 bar. This is fast, effective and environmentally friendly and means the trunk segments are freed from osmosis. Next, the plastic is carefully dried using special measuring instruments. The dry hull can then be rebuilt layer by layer. First, with a special coating that contains microplatelets, which are arranged like roofing pans and thus create an additional water barrier. The finish is an antifoul based on Teflon.
Even though osmosis can be repaired, hair cracks and minor flaking in the gelcoat should be repaired at an early stage to minimise the amount of water absorbed into the GRP.
The coating with microplate is, incidentally, also best suited to prevent osmosis. In addition, an intact microcoating increases the resale value of a boat.